At almost every stop on former Taiwanese President Ma Ying-jeou's visit to mainland China this week, Chinese citizens line the streets and gather outside venues, waiting for a chance to see him.
Some greet him by calling out "Mr. Ma." Others wave excitedly and take videos or photos on their phone.
Ma embarked on the peacebuilding trip shortly after China reopened its borders. He and 30 Taiwanese students paid respects at the mausoleum of Sun Yat-sen, the founding father of modern China, visited wartime historical sites and met with mainland officials and university students.
"I hope the two sides will work together to pursue peace, prevent war and revitalize the Chinese diaspora," Ma said during the trip.
"[We] welcome everyone to visit Taiwan," Ma said to one crowd.
Such scenes on this historic visit - the first by a current or former Taiwanese leader to the mainland since the 1949 end of the Chinese civil war that resulted in them being ruled separately - are juxtaposed with the tensions sparked in the same week by Taiwanese President Tsai Ing-wen's stopovers in the U.S. as part of her trip to the island's Central American allies.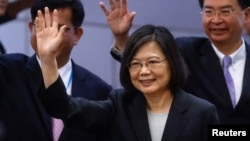 FILE - Taiwan's President Tsai Ing-wen leaves for New York, to start her overseas trip
Tsai's visit to the United States and expected meeting in Los Angeles with U.S. House Speaker Kevin McCarthy in coming days are seen as important by her pro-independence Democratic Progressive Party, or DPP, and Taiwanese people who want visits between Taiwanese and U.S. officials to be normalized.
"We're a sovereign nation and should have rights to do this," said Tso Chen-dong, director of National Taiwan University's Center for Cross-Strait Policy and Public Opinion.
With Taiwan's presidential election scheduled in January, the meeting could also provide political capital for the DPP, Tso noted.
Beijing, however, strongly opposes high-level interaction between Taipei and Washington, seeing it as a violation of the One China policy the U.S. has agreed to, under which it has diplomatic ties with China, not Taiwan. It also views the meeting as an attempt to change Washington's decades long avoidance of high-level contact with Taiwan. While Taiwanese presidents have made stopovers in the United States before, none have met with so senior a U.S. politician.
FILE - In this undated file photo released by the Taiwan Ministry of Defense, a Chinese PLA J-16 fighter jet flies in an undisclosed location.
Beijing has threatened a strong response. Ten Chinese fighter jets on Friday crossed the median line of the Taiwan Strait separating the two sides.
"I think if McCarthy meets with Tsai, we should not be surprised if Chinese planes fly across Taiwan," Victor Gao, vice president of the Chinese think tank Center for China and Globalization told VOA. "If the U.S. keeps provoking China, China will do more and more things short of firing."
What is at play is a cycle in which each side accuses the other of being provocative, and with every "provocative" action, the other side raises the ante - more military maneuvers from Beijing, more political and military support for Taiwan from Washington.
As tensions rise to the highest level in decades, some American officials have speculated Chinese President Xi Jinping may launch an attack on Taiwan to achieve unification by 2027, although the Biden administration has said it does not believe Xi is planning an imminent attack.
Chinese President Xi Jinping delivers a speech at the closing ceremony for China's National People's Congress (NPC) in Beijing, March 13, 2023.
Gao said whether Beijing will attack depends on moves by the U.S. and Taiwan.
"Since the beginning of 1980s, China has proposed peaceful unification. Even today, China is not in a rush to launch a war to take over Taiwan," he said.
Tso agreed unification is not Beijing's top priority; boosting its economy is, but he warned against misjudging China.
"There are people in the DPP who hope the U.S. will believe China will do nothing. I think they are adventurists," Tso said. "However, those in the U.S. who hope to prevent a collision between the U.S. and China are still mainstream opinions in policy circles. That gives people hope that the two sides can prevent any risk-taking action from really causing a collision."
Some analysts say Ma's trip could make a difference.
FILE- Former Taiwan President Ma Ying-jeou, center, waves as he arrivers with a delegation at the Pudong airport in Shanghai, China, March 27, 2023.
"Grassroots exchanges seem to be a minimal thing compared to top-down competition and military tensions, but I think they should have a strong impact in the long run because after all, all the decisions should be based on the will of the public on both sides of the Strait," Tso said. "If his visit makes both sides have more interaction and increase mutual understanding, this will reduce tensions."
While Ma's visit is not political, it's symbolically significant, according to Gao.
"What it really shows is that both sides are brothers and sisters, nothing can separate them. Why should brothers and sisters fight a war with each other?" he said.